Alvarez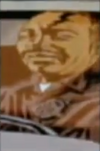 Officer Alvarez
Alvarez was a character in the Wii version of Driver: San Francisco. He was a police officer of the San Francisco Police Department up until his murder. He was John Tanner's partner.
Background
[
]
Little is known about Alvarez. What is known is that he worked with Tanner, who was a rookie at the time, and taught him everything he knows about being in law enforcement.
Death
[
]

After Solomon Caine shot gang members in a drive by, he was chased through the city. He managed to lose them but was picked up a tail. He was spotted by Alvarez and Tanner who were on patrol. They gave chase but were shot at by Caine. Their squad car crashed and Alvarez was killed while Tanner was injured.
Afterwards, Tanner made a promise to find his killer.
Arrest of Caine
[
]
Tanner made good on his promise to Alvarez. He infiltrated Caine's gang, found out that he was his killer, and had him arrested.
Caine was captured by the SFPD on Alcatraz island when his helicopter crashed there after a long chase. He was sentenced to life in prison but must have escaped sometime after.