Calita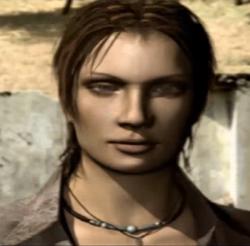 Calita
Calita is the head of "South Beach", a notorious Miami-based car theft outfit. She is cold, efficient and ambitious. They say she once killed her own crew members in a hostage standoff of which only 1 of her men, Lomaz survived - no one has crossed her since.
The name Calita Martinez, later just Calita, first appeared in connection with a shooting incident in Little Havana. Calita Martinez is believed to have acted in self-defense as four members of The Eights cornered her in a Little Havana bar. All four received medical treatment, and shortly afterward The Eights ceased to exist as a functioning Miami gang.
From then on, Calita's name shows up frequently in connection with various robberies, aggravated assaults, and trafficking of stolen goods as well as a series of motor vehicle-related thefts involving rare European cars.
The name South Beach emerged shortly thereafter as a gang specializing in car theft, notably high-performance cars. The gang rapidly started to shake up the balance of power among the existing Miami outfits.
If there was one incident above any other that transformed South Beach's status from wannabe to the real thing, it was the incident involving a Mexican gang. The story most widely reported is that the Mexican gang owed South Beach money, rumored to be $400,000. The Mexicans took hostages from South Beach and then threatened to shoot one an hour until Calita cancelled the debt. Calita set up a series of explosives outside the building and told them they'd all be dead in four minutes, and then she left. Only one member of South Beach, Lomaz, made it out alive. Following this, much of the realistic opposition to South Beach melted away. Since then it has been widely believed that Calita was the undisputed head of South Beach.
Following this, so many high-performance cars disappeared over an 18-month period, that the saying, "It's been South Beached" began to circulate, whether South Beach was actually responsible or not. To this day, pressure has continued to grow on both the Miami PD and the FBI to break up South Beach. However, thus far, it has been impossible for anyone to get close.