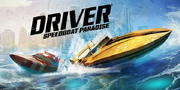 Driver: Speedboat Paradise is a free-to-play smartphone game released on iOS and Android on December 2014. It is unknown when the app was removed but it was possibly removed late 2016.
Gameplay
[
]
Unlike other games, the game focuses on speedboat races. The game also makes use of in-app purchases. In the game, you can race against other speedboats, customize and upgrade your speedboat and "bring down the speedboat mafia".
Synopsis
[
]
Publisher's Summary
[
]
"Embody a young, reckless driver trying to make it big in the ruthless world of speedboat racing. Race around exotic locations, feel the high-speed racing thrill and become the best pilot on the waves! Impose your style! Customize and upgrade your boat to be the hottest driver on land! Beware though, your quest for fame and fortune might take an unexpected turn: meet the legendary cop John Tanner and help him bring down the speedboat mafia!"
Summary
[
]
Characters
[
]
The Player: The main protagonist of the game.
Chris: The Mechanic in charge of the boats.
John Tanner: This time around a supporting character, he gives the player advice before races.
Trivia
[
]
This is the only game in the Driver series where Tanner appears but is not the protagonist.
Driver Speedboat Paradise is the only Driver game that features a speedboat as a drivable vehicle.
This game seems to be hated
Gallery
[
]
References
[
]
External links
[
]
Driver: You Are the Wheelman