Ford GT Fastback

'

Appearances

Manufacturer

Class

Capacity

Horsepower
The Ford Mustang is an automobile manufactured by the Ford Motor Company. It was initially based on the second generation North American Ford Falcon, a compact car.[1] Introduced early on April 17, 1964,[2] as a "1964½" model, the 1965 Mustang was the automaker's most successful launch since the Model A.[3]The model is Ford's third oldest nameplate in production[citation needed] and has undergone several transformations to its current fifth generation.
The Mustang created the "pony car" class of American automobiles—sports car-like coupes with long hoods and short rear decks[4]—and gave rise to competitors such as GM's Chevrolet Camaro,[5] AMC's Javelin,[6] and Chrysler's revamped Plymouth Barracuda.[7] It also inspired coupés such as the Toyota Celica and Ford Capri, which were exported to the United States. The GT series is high performance model of For Mustang. It has a lot of engine option from Windsor 289 V8 to the mighty BOSS 429 V8 model.
In Driver: You Are The Wheelman
[
]
It's only shown in the introductory CGI cut-scene where Tanner gets into the car, and is later pursued by Police.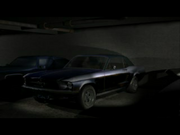 In Driver: San Francisco
[
]
The 1968 Ford Mustang Fastback is unlocked after completing Sprint Activity 8.
Locations
[
]
Driver: You Are The Wheelman
[
]
The car cannot be found anywhere in the game apart from the CGI introduction and is unplayable.
Driver: San Francisco
[
]
Below is a list of where the 1968 Ford Mustang Fastback can be found in Driver: San Francisco
Can be found at any garage (if selected in the garage menu)
Gallery
[
]
[

]
[

]