The Kramer is a coupe in Driver: Parallel Lines.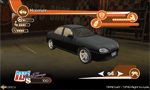 Design

[

]
Kramer mostly resembles a second generation Dodge Neon coupe, but the front light seems more resembles the first generation Neon. The logo somewhat look like a mopar logo, which a custom auto parts company for Chrysler group. It also found in MX2000, a sports coupe in Driver: Parallel Lines.
Performance

[

]
Unlike the Miyagi, the Kramer fitted with a V6 engine, but oddly enough, it much slower and has less top speed than it's competitor, but the Kramer is more balanced and less prone to roll over thanks to good handling, smaller wheel, and longer wheelbase. Crash deformation is much average for a coupe, leaving smokes after two to three hard front impacts.
Variants

[

]
Kramer Racer: racing variants of the Kramer
Locations

[

]
This car is pretty much uncommon in the streets, but mostly found in Queens, Brooklyn, and Northern New Jersey area.