Le Chariot Douze Polis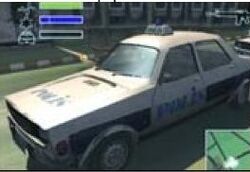 (
Rear quarter view
)
Capacity

4
Found in
Top Speed

52.941176470588

90mph
Horsepower

260 hp
Weight

2,061 lbs.
Engine Type

L4-SOHC
Displacement

1,585 cc
Wheelbase

2.87 m
Ride Rating

2 / 3
The Le Chariot Douze Polis is the police vehicle used by the police department of Istanbul.
Description
[
]
The cash-strapped Istanbul police have to make do with this slightly lackluster squad car. It has fine braking and maneuverability, but lacks apunchy mid-range acceleration, meaning you'll be caught by identical police cars during a chase. The siren and blue flashing light are pleasant additions. There are quicker cars to jack, but this is still a good choice to steal when you're in a bind.
Design
[
]
The car has a white color with blue stripes the name "Polis" which in Turkish means police and a blue siren on the roof of the vehicle.
Trivia
[
]
The siren of this vehicle is very similar to the siren of the Nice police car, Vitesse Moyenne 94 Police.
In 2005, The 1971 Renault 12 was looked similar to the wrecked of the Police Car.
Vehicles in Driv3r
Miami
Sedans/Luxury/Muscle cars
Sports cars
Trucks/SUVs
Commercial
Motorcycles
Boats
Trains/Trams
Nice
Small Hatchbacks
Sedans/Luxury/Muscle cars
Sports cars
Trucks/SUVs
Commercial
Motorcycles
Boats

Istanbul

Small Hatchbacks
Sedans/Luxury/Muscle cars
Sports cars
Trucks/SUVs
Commercial
Motorcycles
Boats
Trains/Trams