Leila Sharan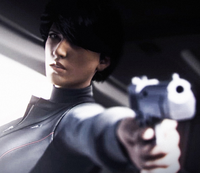 Leila Sharan is a character from Driver: San Francisco who is the secondary antagonist on the Driver Series. She is a hired assassin who plays a key role in the Charles Jericho's escape. She had attempted to kill Tanner but later in the game, Leila was arrested by John Tanner.
Background and Criminal History
[
]
Leila is a well-trained assassin. She is a second generation American who was raised by a wealthy Egyptian Middle Eastern family. When Leila became an assassin, she cut all ties to her family and past. She even gave up a promising academic career so she could be a criminal.
As an assassin, Leila worked in Africa. Her main goals are to be flawless in her work, have complete control of her affairs, and to have wealth. She was paid to assist Jericho in his escape from prison. Leila hijacked a KEOC news helicopter and fired an RPG at a convoy of police leading Jericho to court.
Leila was also paid by Jericho to assassinate Tanner. She used Ordell Williams on this job and knew that Tanner was able to shift into Ordell. It is possible she killed Ordell later on.
Arrest
[
]
After a failed attempt to kill Tanner with a car-bomb, Leila was tracked down and arrested on the Golden Gate bridge after a chase. Tanner acknowledged that Leila had been arrested before and would not give the police any information.
Car Driven
[
]
Leila drives a 2010 Aston Martin Rapide. The car's license plate number is 8BR8 139. The car is most likely stolen as it is registered to a 79 year old woman from Idaho.
In the mission, "Entrapment", Leila drives a Hummer H3. This car was wrecked after her chase with Tanner.
Mission Appearances
[
]
Driver: San Francisco
[
]
Escapist

(heard over phone)

Test Drive

Entrapment

(arrested)
Murders Committed
[
]
As an assassin, Leila has most likely committed multiple murders. These are the confirmed murders.
Officer(s) in squad car. (shot by RPG)
Camera guy in the news chopper. (cut the security rope)
It is possible she murdered Ordell as well.