Description
Edit
Paramedic is an ambulance of the 2006 era in Driver: Parallel Lines. This vehicle have functional sirens and emengercy lights like the M700, Zartex, Meat Wagon and the Firetruck since the Parademic is a emengercy vehicle.
The vehicle is based on the
Ford F-450/Braun Chassis
, albeit the head lights are different shaped.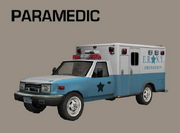 Performances
Edit
Top speed: 100 MPH
Acceleration: Medium
Handling: Medium
Locations
Edit
1978 era
Edit
Does not spawn in the 1978 era.
Can be seen driving around if the player has completed the game.
Can also be done uses the "all vehicles" cheat and drives the vehicle in 1978 era.
2006 era
Edit
Rarely spawns in the entirety of New Jersey.
Commonly spawns in the Fictional District in Manhattan.
Spawns more commonly when driven.
The Paramedic is one of the vehicles to lack a damaged/wrecked texture. which feature a damaged version of the initial texture, the Paramedic simply deforms and/or falls apart, and does not suffer from burns, scratches or dented bodywork. This applies to the Prison Van.